Oregon is known for its lush, green forests and stunning Pacific coastline, but did you know that it's also home to some pretty sunny cities. In fact, statistics show that certain parts of the state clock over 300 days of sun per year.
And because living in Oregon provides plenty of opportunities to get out and enjoy the sunshine, if you're considering moving here then you'll definitely want to know what the sunniest cities in Oregon are.
If you're looking for a place that's sunny and bright all year round, check out our guide to Oregon's sunniest cities. These cities offer plenty of opportunities to get outdoors and enjoy the best of what this beautiful state has to offer.
The Benefits of Living in a Sunny City
Not convinced living in a sunny city is right for you? The benefits of living in a sunny city are actually numerous. From the abundance of vitamin D to the mood-boosting effects of sunlight, living in a sunny city has a plethora of benefits.
For one, the abundance of vitamin D is excellent for overall health. Vitamin D helps to regulate calcium absorption, which is essential for maintaining strong bones. The sunlight also provides a natural source of energy, making it easier to get up and get moving in the morning.
In addition, the mood-boosting effects of sunlight can help to improve mental health. Sunlight exposure has been shown to reduce symptoms of depression and anxiety, and it can also increase levels of serotonin, which is known as the "happy hormone."
Living in a sunny climate also means that you can grow a lot of different types of plants and flowers. Even if you don't have a green thumb, you can still enjoy the beauty of your surroundings.
In addition, sunny cities tend to be more vibrant and exciting than places with cooler climates. The warmer weather brings out people's energy and enthusiasm, and there's always something going on.
Sure, Oregon gets cold in the winter, but you want to be able to enjoy the beauty of spring, summer, and even the early crispness of fall, right?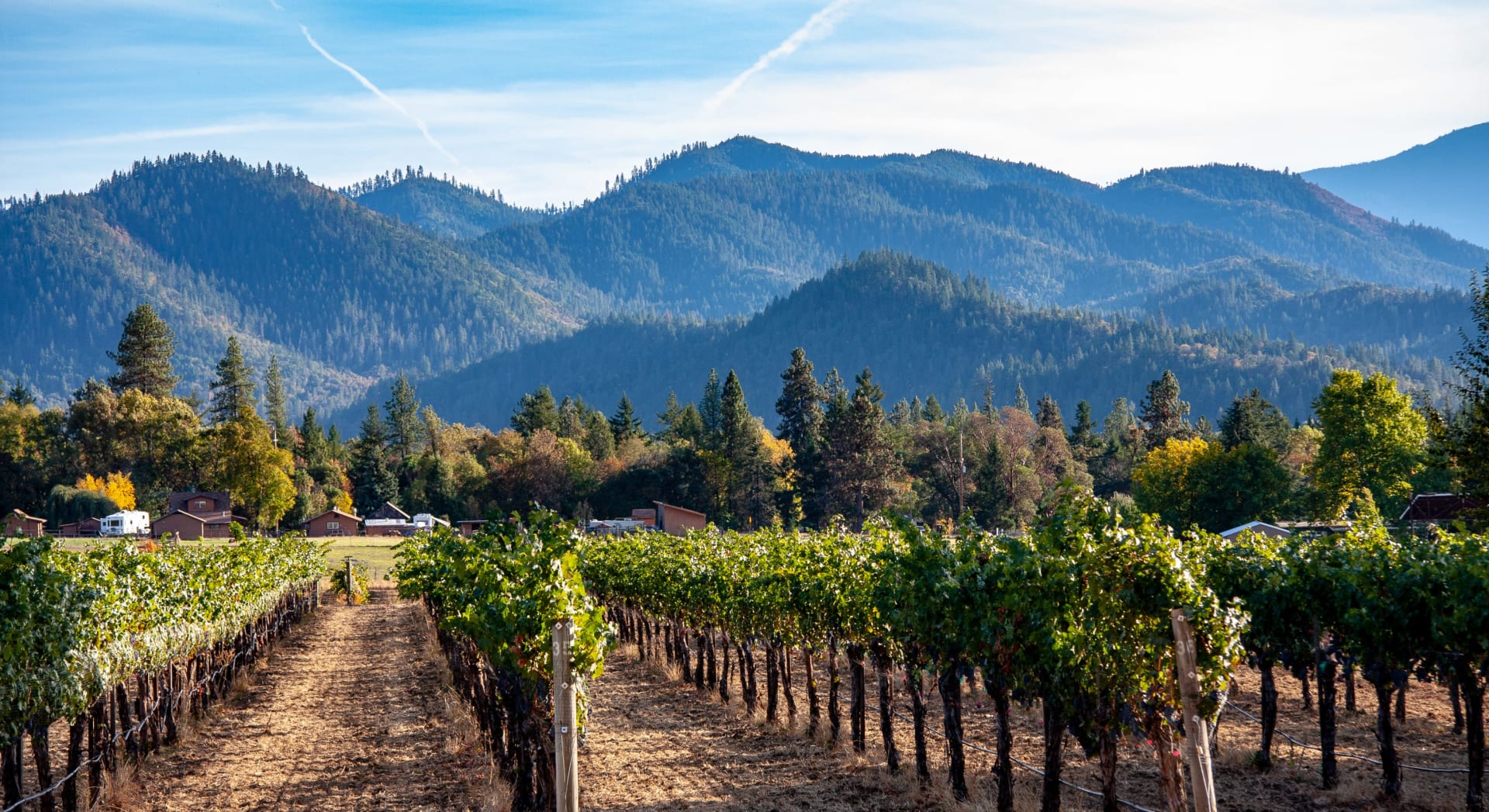 How Much Sun Does Oregon Get Per Year?
According to the National Weather Service and city-specific statistics, Oregon gets (about) an average of 2,400 hours of sunlight per year. That's about 60% of the potential amount of sunlight that the state could get.
Most of Oregon's sunlight comes during the summer months. For example, in July, the state gets an average of about 284 hours of sunlight.
In contrast, during the winter months, Oregon only gets an average of about 48 hours of sunlight per month. However, even during the winter, there are some parts of the state that get more sunlight than others.
For example, the southern part of the state usually gets more sun than the northern part. This is because the southern part of Oregon is closer to the equator and therefore gets more direct sunlight.
Overall, Oregon is a pretty sunny state during the right months, especially if you're looking at living or retiring in Oregon and are moving to a place close to the southern border near California.
Live near Jackson County, Oregon, for example, and you'll experience more sun than in the northern part or even up near Portland.
Sunny, Safe & Affordable: Finding the Right Mix
Before you go looking at some of the sunniest cities in Oregon, it's important to understand that you can't base your Oregon property search on just the number of sunny days alone.
When looking for an affordable home in Southern Oregon, it's important to find the right mix of sunny, safe, and affordable.
This means that you should be willing to compromise on a few sunny days if it means living in a neighborhood that's safe, affordable, and has everything else you need! How do you go about finding a home like this?
The first step is to identify your budget. Once you know how much you can afford to spend, you can start narrowing your search to affordable homes in Southern Oregon that fit your budget. Use a mortgage calculator to help you figure out how much you can expect to pay in certain areas and with specific loan terms.
The next step is to find a safe neighborhood. Look for affordable homes in Southern Oregon that are located in safe neighborhoods with low crime rates.
Finally, consider the amount of sunlight each home receives. Homes that receive more sunlight are typically more affordable than those that don't, so keep this in mind as you tour different homes.
By following these steps, you'll be sure to find an affordable home in Southern Oregon that's right for you and ticks all of your sunny boxes.

Exploring the Sunniest Cities in Oregon
Oregon is a land of contrasts, with lush green forests, rugged mountains, and a dramatic coastline. And while the state is known for its rainy weather, there are also plenty of sunny days to enjoy.
Here are some of the sunniest cities in Oregon if you're interested in living in Southern Oregon.
Eagle Point, Oregon
Living in Eagle Point is great for a number of reasons. First, the town is situated in a beautiful location. Surrounded by mountains, forests, and rivers, Eagle Point is a nature lover's paradise. There are endless opportunities for hiking, biking, and camping, and the views are simply breathtaking.
Second, the community is very friendly and welcoming. Everyone knows everyone else, and it's not uncommon for people to stop and chat when they're out and about. With a population of just under 9,000, it's the right size for retirees who want to mix and mingle with others yet still large enough to not feel totally deserted and out of the way.
There's also a strong sense of pride in the town, and residents are quick to support local businesses. This helps build a sense of community and ensures that everybody is welcomed, respected, and care for.
Finally, the cost of living in Eagle Point is very affordable. Housing prices are reasonable, and there are plenty of good schools in the area if you're a young family with young children. All in all, Eagle Point is a great place to live, and it's actually quite sunny.
Find Eagle Point homes for sale.
Rogue River, Oregon
Life in Rogue River is pretty laid back. Most people here know each other, and it's not uncommon for folks to wave as they drive by. There's a real sense of community here. People are friendly and helpful, and there's always someone willing to lend a helping hand.
Life revolves around the river (yes, Rogue River is both a city name and a local river name), and on any given day you'll see people rafting, fishing, or just relaxing on the banks. The scenery is beautiful, and there's always something new to explore.
That's great news, too, as there is plenty of sun in Rogue River, Oregon for those who actually want to get out and enjoy their natural surroundings.
Because it's so close to California and Nevada as well, it's the perfect city to live in for those who love to travel to other states (and indulge in a bit of the sunshine that Reno receives; it's just a little under five hours away!).
Whether you're hiking through the woods or paddling down the river, there's no shortage of adventure in Rogue River.
Find Rogue River homes for sale.
Jacksonville, Oregon
There are plenty of places in Jacksonville, Oregon where you can enjoy the outdoors. If you like to hike, there are several trails that wind through the forest. If you're looking for a place to swim, there are several lakes and rivers nearby.
And if you enjoy fishing, there are plenty of spots where you can cast your line. Jacksonville is also home to a number of parks, including Jackson County Park and Veterans Memorial Park. There's also an annual jazz festival that takes place in the summer.
The reason why there are so many outdoor activities in this Oregon city is that it's one of the sunniest cities in Oregon, at least in the southern part of the state.
Its perfect position on the Apple Valley Wine Trail makes it a hot destination for tourists as well. In fact, it was once named one of America's Top 10 Coolest Small Towns by Budget Travel Magazine.
This makes it a thriving, unique place to live for those who love the small town feel but are interested in mixing and mingling with travelers who come to experience the sunny outdoors too.
So whether you're looking for a place to relax or a place to have some fun, Jacksonville has something to offer.
Find Jacksonville homes for sale.
Central Point, Oregon
What's the best Central Point neighborhood for those looking to enjoy the sun and local culture?
For sun-worshippers and local-culture enthusiasts, the best place to stay in Central Point is definitely the Riverfront district.
This charming neighborhood is located on the banks of the Rogue River, providing stunning views of the surrounding mountains. In addition, the Riverfront District is home to a number of restaurants, cafes, and shops, so you can easily spend a day exploring the area.
And if you're looking for a little bit of everything,
Central Point also has a number of parks and museums that are definitely worth a visit. For example, when the summer sun gets a little bit warm here, head indoors and enjoy a visit to the Crater Rock Museum.
You'll be able to enrich yourself in the wonders of West Coast history as you view a variety of intriguing rocks, minerals, petrified wood, and fossils.
So whether you're looking to relax in the sun or experience the best of local culture, Central Point is a great place to think about settling. Home prices are actually quite fair, particularly for those interested in community-oriented real estate.
Find Central Point homes for sale.

How to Look for a Sunny Home in Southern Oregon
Ready to find your next home? Living in a sunny city in Southern Oregon isn't hard, but finding the home of your dreams can be if you're not working with the right team.
Geographically and logistically, we have a few tips for you if sunshine hours are an important factor in your home search.
First, consider the elevation of the property. Properties at higher elevations will usually have more sun exposure than those at lower elevations. This also means taking a look at the surrounding trees and vegetation. If there are tall trees nearby, they may block some of the sunlight from reaching your home.
Additionally, pay attention to the orientation of the home. Homes that face south will typically receive more direct sunlight than those that face north.
Finally, consider the time of year when you'll be moving. The summer months tend to be the sunniest, so if you're looking for maximum sunlight, plan your move for during this time. Alternatively, if you're conducting your home search during the winter months, don't be fooled by the lack of sunshine. Things start to brighten up around here during early spring!
Live in One of the Sunniest Cities in Oregon
We've explored some of the sunniest cities in Oregon. Has it left you aching to move here as fast as possible? We thought so. Southern Oregon is a beautiful place. The Cascade Mountains and the Rogue River Valley provide a stunning backdrop for the region, and there are plenty of opportunities to enjoy the outdoors.
If you're interested in moving here, we'd love to help you with your home search. We are a full-service community-oriented real estate group dedicated to serving the needs of discerning buyers and sellers throughout beautiful Southern Oregon.
Get in touch today to start your home search.