After a few months of planning, writing and designing, we are delighted to announce the launch of our new website: LeiserRealEstateGroup.com. Our main goal was to create an easy-to-navigate all-in-one platform, where clients can search for properties, learn about different communities of Southern Oregon, find answers to real estate questions, and so much more! The new website's features are too many to mention, so we'll highlight just a few, but we hope you'll take time to explore the new platform for yourself!
We realize that most people who come on our website - no matter how pretty it is - are there to look for properties. That is why we created an easy way to search for homes. Our search page lets you look for land, residential and commercial properties, tour the homes through pictures and videos when available, and save your favorite results. You can also fine-tune your geographic search by drawing a loop on the map and sign up for listing alerts to receive notifications of updates to your search criteria. Because our website sources listings from the Southern Oregon MLS, you can count on accuracy and quality of our information.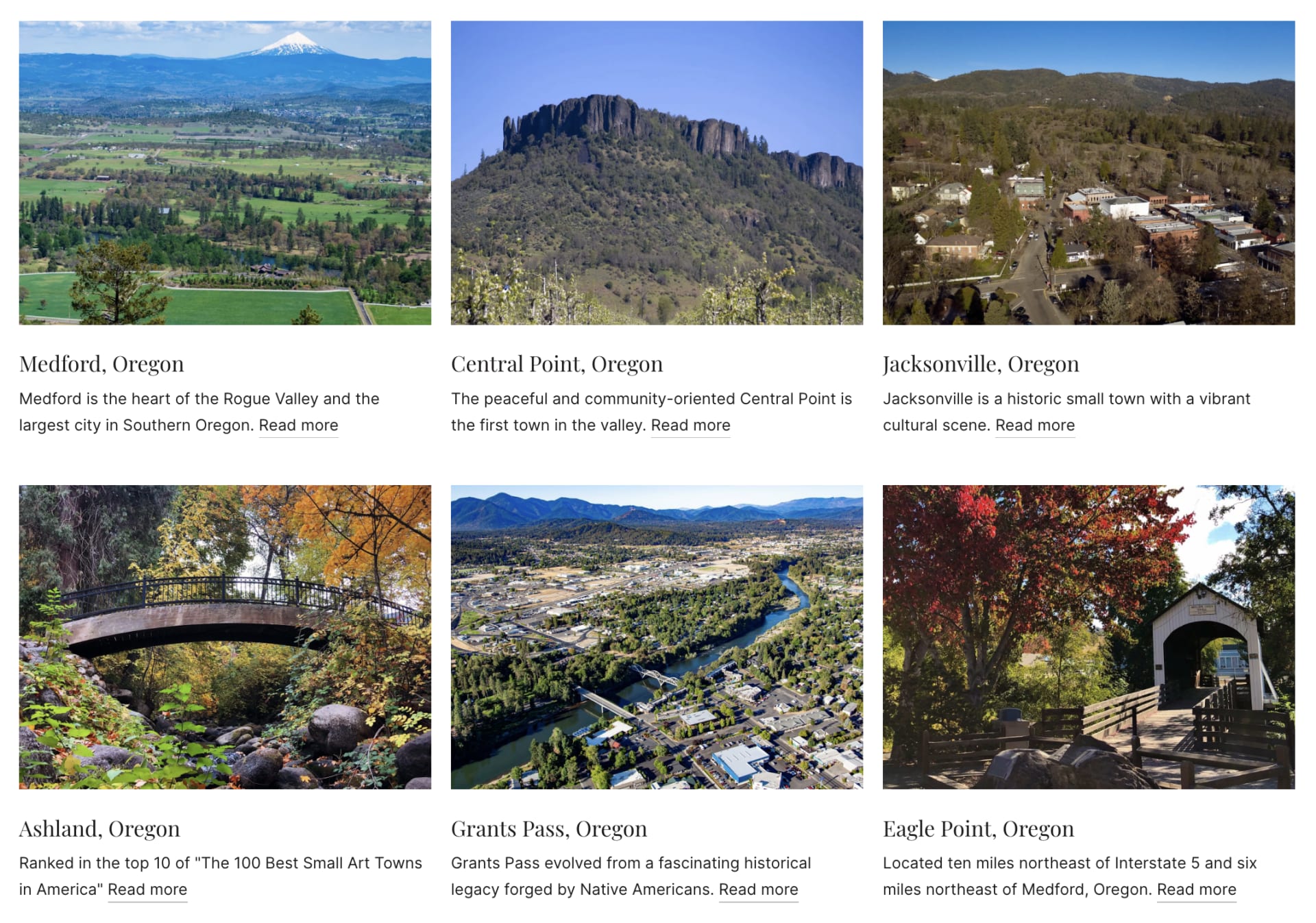 Are you moving to Southern Oregon, but not yet sure which neighborhood is right for you? Then click here. Our Neighborhood guide provides detailed information about each community in the area: from lifestyle and school options to dining, entertainment and shopping experiences.
For example, city lovers would appreciate the city of Medford. This fast-growing urban center is home to high-end restaurants and medical facilities and offers easy access to some "bucket list" destinations like the world-famous Crater Lake, Oregon Shakespeare Festival, Table Rocks, Britt Festival, and so much more. If you're a fan of small-town living, check out Jacksonville - a quaint sophisticated town with a fascinating historic legacy and vibrant cultural scene. Looking for a place to retire to? Consider Grants Pass. This river town has a tight-knit community. It's easy to unwind and enjoy yourself here, whether you want to stroll downtown, check out the shops, admire the art galleries, or sample the various fine-dining establishments and local breweries.
This is one of our favorite sections. It was designed to help you discover all the luxuries Southern Oregon has to offer. Whether you're looking for a spa to relax and rejuvenate, want to enjoy a unique shopping experience at one of the local boutiques, or simply can't decide which winery to visit, browse this section for information and resources, and always feel free to reach out - we'd love to give you our personal recommendations! In fact, here are a few of our favorites…
If you're in the Grants Pass area, make sure to stop by one of the locations of Casablanca Coffee & Grill - a family-run establishment that prides itself in serving healthy food and delicious cocktails. They have three drive-throughs and a sit-down bar & restaurant in downtown Grants Pass. Gold Hill's Del Rio Vineyard and Winery is the largest single vineyard in Southern Oregon. You can stay inside the historic tasting room for a glass of vibrant and flavorful Pinot Noir or pack a picnic basket and enjoy the outdoor area. Looking for some me-time after a day of house hunting? Make sure to visit Organic Element Spa for the ultimate relaxation experience and the best massage/facials in town. We all know that a relaxing spa day can do wonders for your mind, body and soul.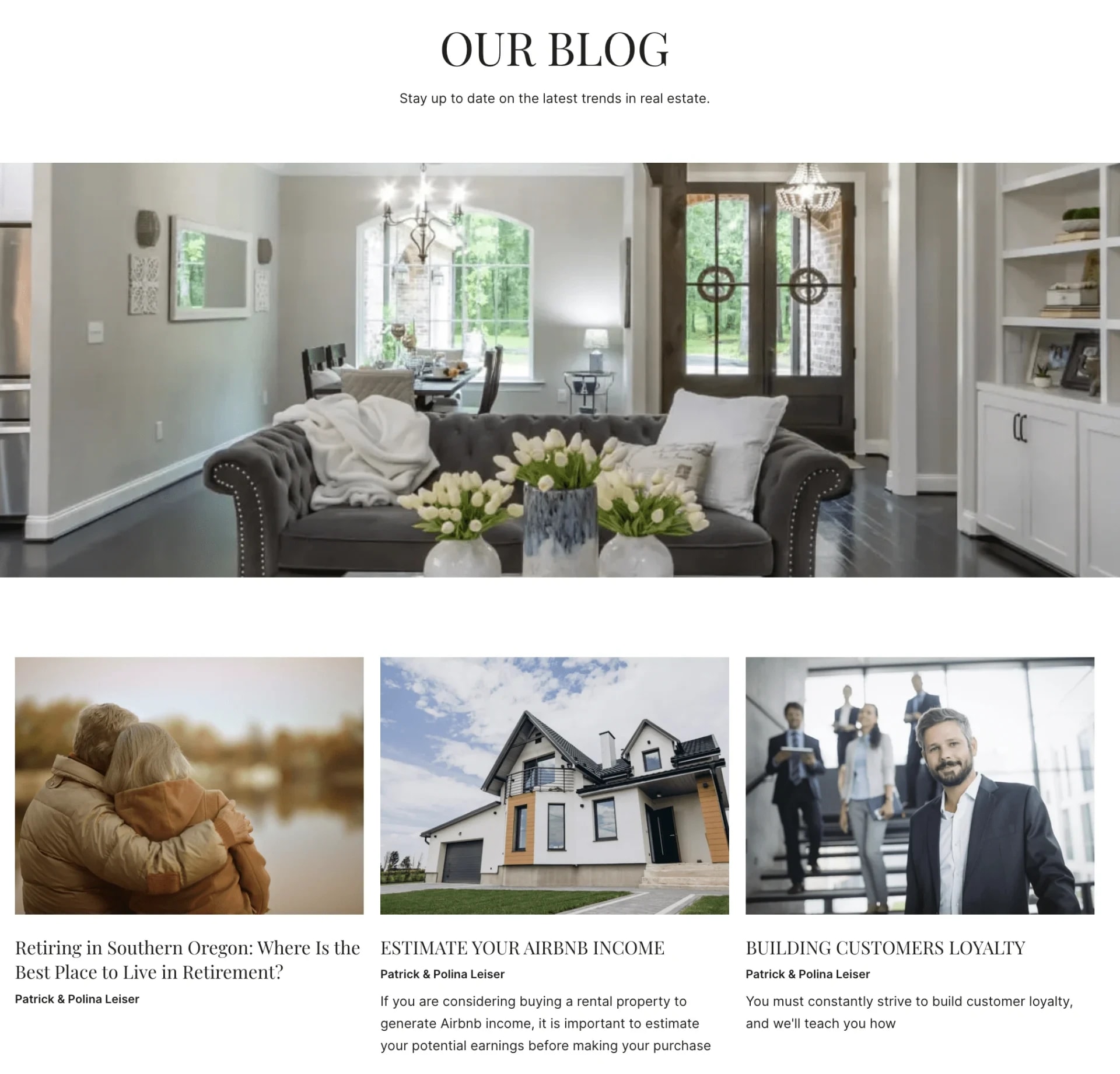 Not only do we love Southern Oregon and are passionate about real estate, we love to write about them in our blogs! As you can see from our published articles, no topic is off limit: from market updates and neighborhood spotlights, to local events and useful information for home buyers and sellers, we are excited to share these topics with you and include a little bit of our personal experiences there as well. A couple of articles we are currently working on are "The Sunniest Days in Oregon" and "The Best Places to Live in Southern Oregon for Families." So make sure you come back and check them out here.
Want to know what makes Leiser Real Estate Group different? Head out to our Concierge Services to find out. Our mission is to exemplify the "at your service" mindset and accommodate your needs ensuring your real estate journey is as seamless and smooth as possible. Whether you are buying your dream home or selling your existing property, our premium concierge services are well-chosen to give you the peace of mind and help you flawlessly transition to your next destination. By providing you with the highest level of customer service and helping you create your desired lifestyle, we aspire to redefine the traditional agent-client relationship and build a rapport that lasts far beyond the real estate transaction.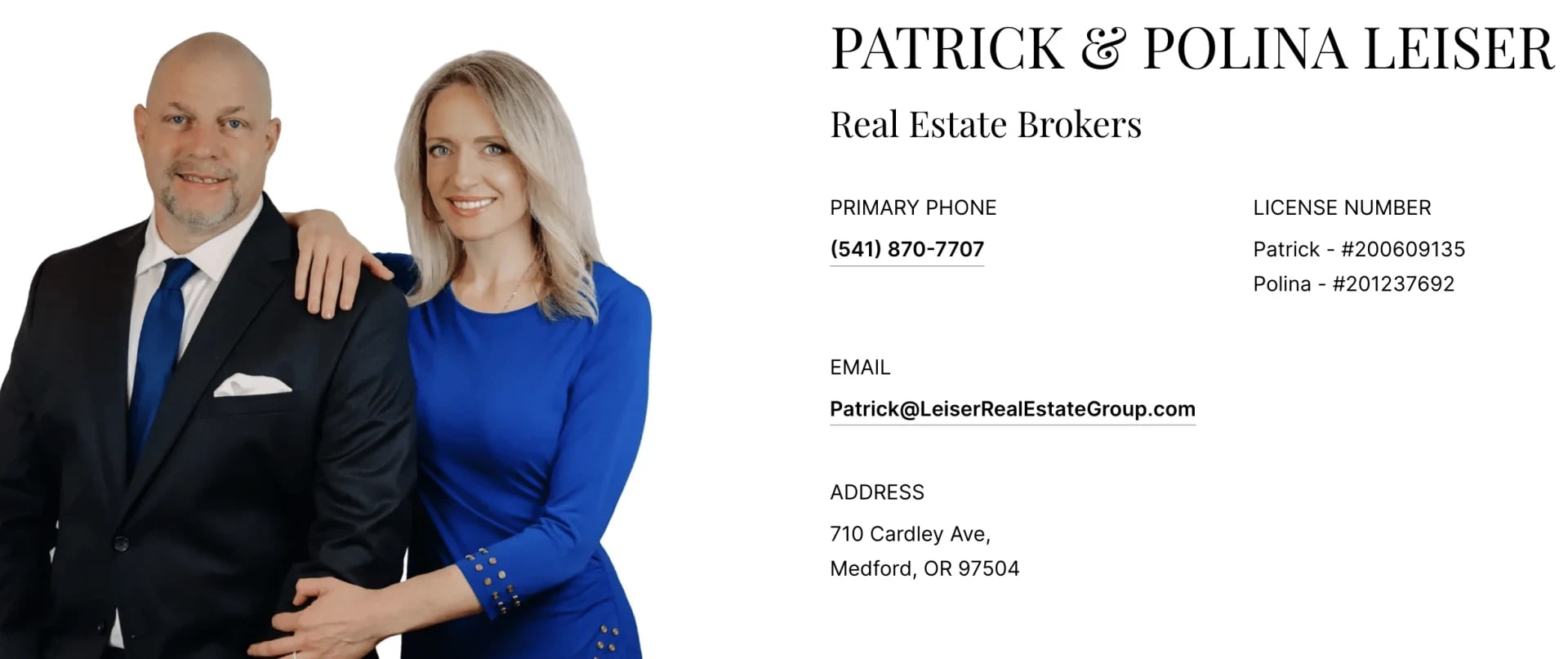 On our new website, you can also learn more about the two people behind Leiser Real Estate Group - Patrick and Polina Leiser. To give you a little sneak peak, one of us used to be a professional wrestler, and the other was born in Siberia. Head out to the Who We Are page to see if you guessed it right.
We hope you love the new look and feel of our new website as much as we do. As we already mentioned in the beginning, it has way too many cool features to list here. So feel free to look around and make sure to let us know what you think! We appreciate your feedback and look forward to working with you in the future!